Our committee meets regularly during the year to organise events, to manage policy between General Meetings and to generate the Newsletter and the Magazine that is mailed to all of our Members.
President: A T (Andy) Jordan-Smith
Senior Vice President: G (Gary) Bunce
Junior Vice President: P. (Peter) Ayling
Immediate Past President: M. (Mike) Nicholls
Officers
Secretary – R J (Richard) Sandler
Membership Secretary – A J (Alan) Bolton
Treasurer – S (Steve) Homewood
Registrar – A J (Alan) Bolton
Social Secretary – N R (Roger) Goodman
Magazine Editor – G (Garry) Bunce
Ordinary Members
B R (Barry) Mellish
D C (Dennis) Johnson
P (Paul) Duggan
J (John) Ibbs
Rambling Club Rep – R G (Roger) Pawley
Hatcham Association Rep – J M G (Janet) Gearing
President's Profile A T (Andy) Jordan-Smith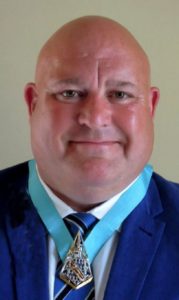 Andy (who was known at school as Andy Smith) was born at Lewisham Hospital in 1968 and was fortunate enough to be accepted for Aske's in 1980. Similar to the Immediate Past President and the schools process at the time, his Mother was interviewed by Graham Walker and he was then led off to be interviewed by Tony Harding, Geoff Barber and Wilf Hawkins.
Andy's Father passed away in 1975 at the age of 35, so his Mother wanted him to attend a boys' school with strong core values and discipline. Andy can certainly say that Wilf Hawkins, Barry Kerridge, Gordan Allen, Geoff Barber and the like, along with the School Prefects at the time, did not disappoint!! Whilst Graham Walker was quietly spoken, Wilf Hawkins was quite like no man that he had met in his life at that point!! It was once out of school at one of the many rugby events that Andy got to know him a little better and he certainly had a very interesting life….
Tim Fullick was his first form tutor, followed by the next two years with Simon Lindsey, then Gordon Allan and Pete Ellis. Andy was in Daykin's House (Navy Blue) which then transferred to Bonner's House on Cecil's retirement.
An avid sportsman he captained the U12 XV in his 1st year and again later in his School playing career was selected to lead the 1st XV. Whilst at school Andy represented Kent County Schools RFU and the London Schools Divisional RFU team. Upon leaving school Andy was selected to Captain Kent Colts and he also represented London Divisional Colts and was a member of the England Colts squad. He played cricket for the school at all age groups and also played regularly on Saturday and Sunday for The Old Askean CC from the age of 14, and later became the OA Cricket representative in the early/mid-nineties. At one point he held the school shot putt record (but believes it now to have been broken).
Upon leaving school Andy joined an Australian Bank, having dabbled with the idea of persuing a career in the Army and as a PE teacher. He worked for Westpac Banking Corporation for 6 years before he moved across to Cantor Fitzgerald International as a Japanese Yen Broker. From there he moved to Citibank working with this years JVP Gary Bunce (OA,) for a year when he then moved into Banking Software.
Whilst this was all going on Andy married Sarah Bransbury whom he met as a 9-year-old when he moved from Honor Oak Park, Forest Hill, to Erlanger Road in New Cross. They grew up together in a group of friends who are all regularly in contact with each other and in 2000 moved to Faversham, Kent where they were married at Lympne Castle in 2002 and started to raise their family, Lucy and Oliver.
In 2003, Andy wanted to spend more time with the family, so he started working for himself as a contractor and worked for the likes of Delphi, EDF, Thales, DLR (as part of the Olympic Transportation team) Network Rail, Heathrow Airport, Societe Generale and for the past two years he now has a group of pubs in and around Kent. Under the umbrella of Tavern Holdings Ltd, Andy owns three pubs, The Phoenix Tavern in Faversham, The White Horse Inn, Bridge on the outskirts of Canterbury and The Ship Inn, Herne Bay.
This gives him the time to regularly watch his children pursue their school careers and enjoy watching them playing sports, with his son Oliver being selected for Kent County Cricket at U12's and his daughter Lucy's girls cricket team making the National T20 quarter finals.
Not only does Andy find time for his businesses and his children, but along with being this year being President of the OAA, he also sits on the Development board at St Lawrence College, Ramsgate, he is a Trustee of the Hop Festival in Faversham as well as England Counties Under 18, Chairman of Selectors for the London and South East Division.
Andy currently resides in Ramsgate with his wife, children and their dog and often is seen pacing the touchline at Thanet Wanderers RFC, walking the boundary at Broadstairs Cricket Club or planning the next development at St Lawrence College, and of course, looking for his next pub!!
---